May the Journey Bring You Joy  
Jeanne Acutanza

I had the opportunity to interview infrastructure artist, Vicki Scuri/Siteworks as part of the Move The Era podcast series here. We talked about her life's work making infrastructure more appealing and communities more beautiful. New infrastructure – bridges, new and redeveloped roadways, and stations bring a long-term permanence. If done well, they can also enhance and beautify the area. In her body of work, Vicki works with the designers to incorporate elements of art and expression. In the over 30 years she has worked in this industry she has invented methods to meet her creative ideas. She expanded the use of MSE forms in the development of MSE walls to create deep repeating patterns. Her designs reflect history and the community. She continues to incorporate the history, environment, and sustainability into her designs. Mechanically Stabilized Earth (MSE) A Mechanically Stabilized Earth (MSE) retaining wall is a composite structure consisting of alternating layers of compacted backfill and soil reinforcement elements, fixed to a wall facing. From Interurban walls.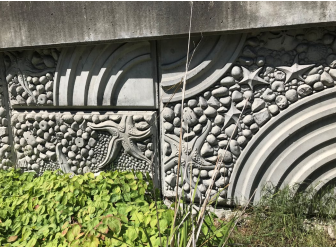 Source @Brent Van Wieringen
While I loved interviewing her, it would not do her justice without sharing some images from her work. You can also visit her website here.She has worked all over the United States, but I am lucky to live near her home and able to visit some of her projects nearby. The Interurban trail bridge over SR 99 in Shoreline was developed as part of other large investments to reshape the old SR 99 highway corridor. Prior to the expansion of automobile travel, rail systems like the Interurban Rail System connected urban communities. The Interurban trail now uses that linear corridor for pedestrians and bikes. As a nod to this history, Vicki developed two trail bridges, one adjacent to SR 99 (Aurora Avenue) and one crossing SR 99 to reflect railcars.Just south of the Interurban trail crossing of Aurora, Vicki was commissioned as part of a Seattle neighborhood grant to improve an area that has been left in disrepair. With limited funding Vicki, looked to other options outside the original streetscape project. She used an existing pedestrian bridge crossing over the busy six-lane Aurora Avenue. An existing pedestrian bridge was upgraded, and Vicki designed these colorful enhancements to attach to the bridge, reflecting the bright dawn.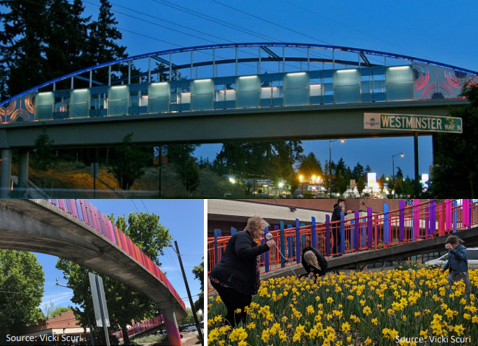 Vicki Scuri Vicki's most recent work in my community of Puget Sound are panels at the future South Bellevue Light Rail Station. While this station has been constructed and the art installed, the light rail station opens in 2023 as part of the light rail connection between Seattle and Redmond, WA. This elevated station in Bellevue flies above the Mercer Slough, a 320-acre natural preserve with wetlands and trails. Vicki created these screens to reflect the colors of the seasons within the Mercer Slough. Elevated Source: Vicki Scuri Source: Vicki Scuri structures can be perceived as intrusive. These screens reflect the beautiful natural environment close by.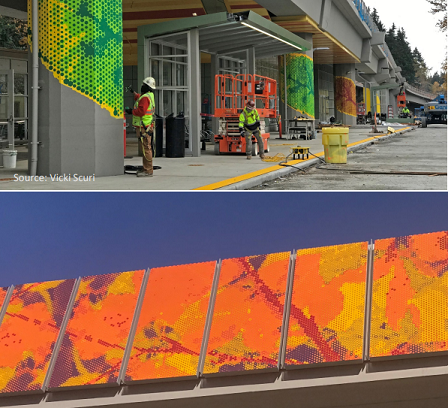 While Vicki has worked all over the United States some of her current projects include the East Kellogg improvements in Wichita. The project features a series of highway interchanges and roadway improvements over five miles of highway. The design features Wichita's heritage inspired by flight, wind, and prairie. As we discuss, her work is an interdisciplinary collaboration between artists, engineers, and landscape architects. It includes two gateway bridges with LED lighting, curved screening, and 400,000 square feet of patterned retaining walls that carry wind and prairie motifs. Landscape is re-vegetated prairie with an emphasis on sustainability and rain harvesting.
As we discuss, she is interested in and has developed techniques to incorporate elements of sustainability like earthen walls. She works to engage with the community in meaningful ways that are durable to make sure these projects retain their beauty. And very importantly she hopes her works brings you joy. I can confirm it has for many years.